Bringing Luxury Outdoor Living To Homes Across The UK
At LEO Living, we are on a mission to help clients across the UK realise their dream outdoor living area. Having dedicated many years to designing and installing swim spas and outdoor kitchens for clients in Essex, we became aware of the challenges associated with trying to create a perfect garden living space by yourself. From sourcing products from different suppliers to coordinating the various technical elements of a garden redesign, we realised that we could utilise our professional expertise to make the whole time-consuming process much more convenient and streamlined.
We've gone to great lengths to source a collection of luxurious outdoor living products from leading manufacturers across the world. We take great pride in supplying only the finest quality tried and tested equipment for your space. At LEO Living, you will find absolutely everything you need to make your ideal outdoor living area a reality, whatever your taste and lifestyle. Our trusted dealers benefit from unrivalled knowledge and expertise when it comes to our products which makes them perfectly positioned to help bring your bespoke outdoor living space to life. Finding the ideal design to beautifully enhance your garden living space has never been easier.
Versatile & Stylish Luxury Garden Buildings
Spending time outside admiring your natural surroundings is the perfect way to relax and rejuvenate, and so it's a great shame that so many of us are at the mercy of the British weather. However, with our gorgeous outdoor garden buildings, this doesn't have to be the case. Our easy to erect structures provide shelter from sun, rain and even snow, and, what's more, their impressive sleek Italian design looks completely stunning in any setting. Whether you're looking to create an outdoor gym, kitchen or seating area, our luxurious garden buildings are the ideal solution. Click the button below to learn more.
Outstanding Quality Products Brought To You By A Dedicated Team
When it comes to creating a stunning outdoor living space, the superb quality of our designs is paramount. From our BBQs to our buildings, each and every one of our products must contend with everything the British climate has to throw at them year on year. At LEO Living, we've scoured the globe to complete the most exceptional collection of outdoor living products available. Our team are incredibly passionate about creating spaces that delight and inspire for many years to come and their understanding of our meticulously curated products is remarkable. LEO Living are undeniably your trusted outdoor living specialists.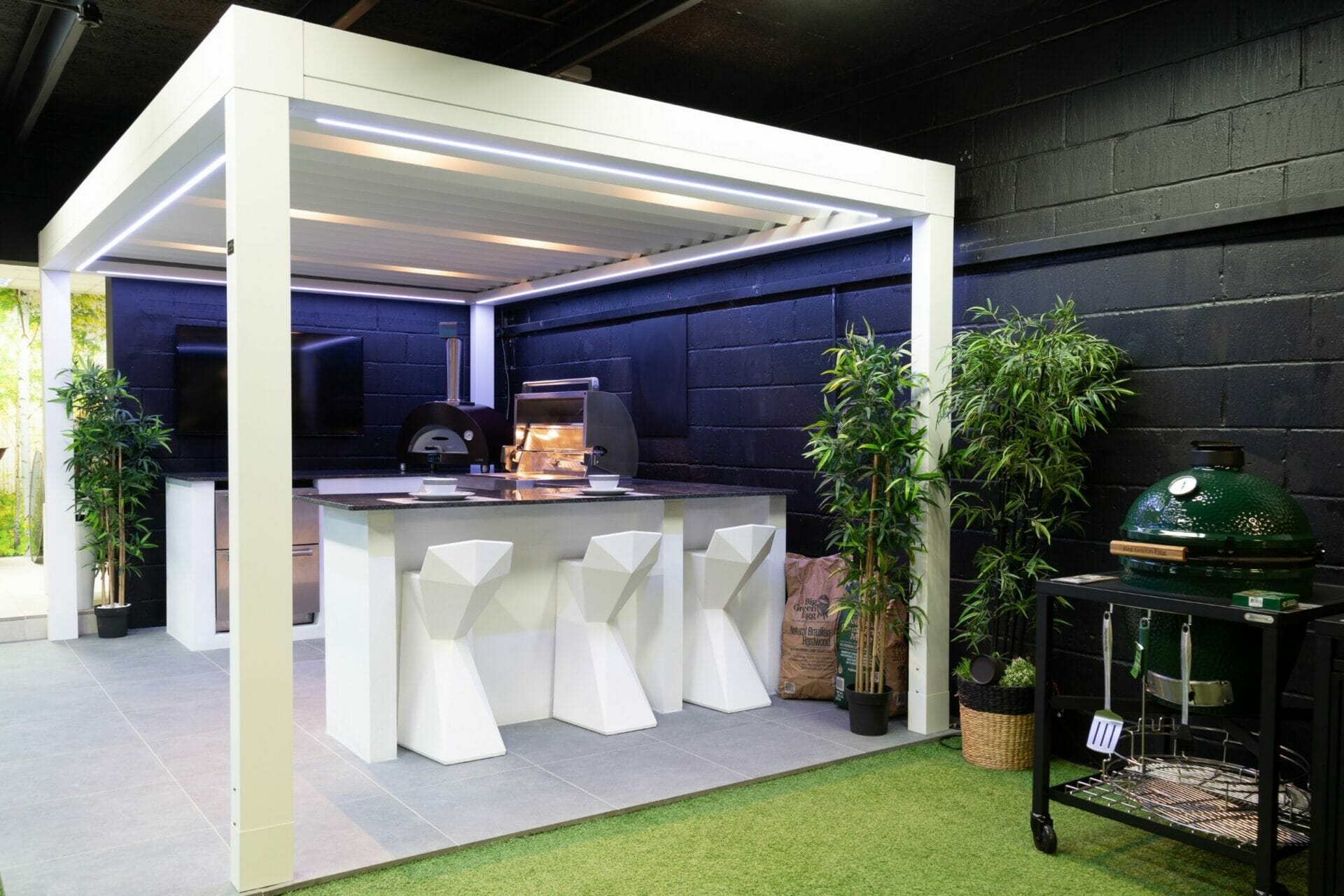 We have just had an outdoor kitchen with pizza oven, pergola and an awning supplied and fitted. We were very happy with our experience and would recommend Leo.
Mrs Doherty
Brilliant service to complete our outdoor project.  We have gone from rarely using our garden to being outside in it nearly every day, so thank you all for creating our dream garden!
Mr Eddington