THE UK'S NUMBER ONE OUTDOOR KITCHEN BRAND
Specifically crafted to surpass all others, the Leo Kitchen is fine-tuned to excel where other outdoor kitchens lack. Designed by experts with over 25 years of experience in the kitchen industry, the Leo Kitchen range brings the luxury and finesse of a gorgeous, bespoke indoor kitchen outside.
Over the past couple of years, we have grown to appreciate our outdoors spaces much more. And our fantastic Leo Kitchens are created with this in mind. Our collection embraces the joys of outdoor living, giving you greater flexibility to enjoy your space in brilliant new ways. Created with superb quality and bespoke customisation at their heart, our Leo Kitchens make an exceptional addition to outdoor living.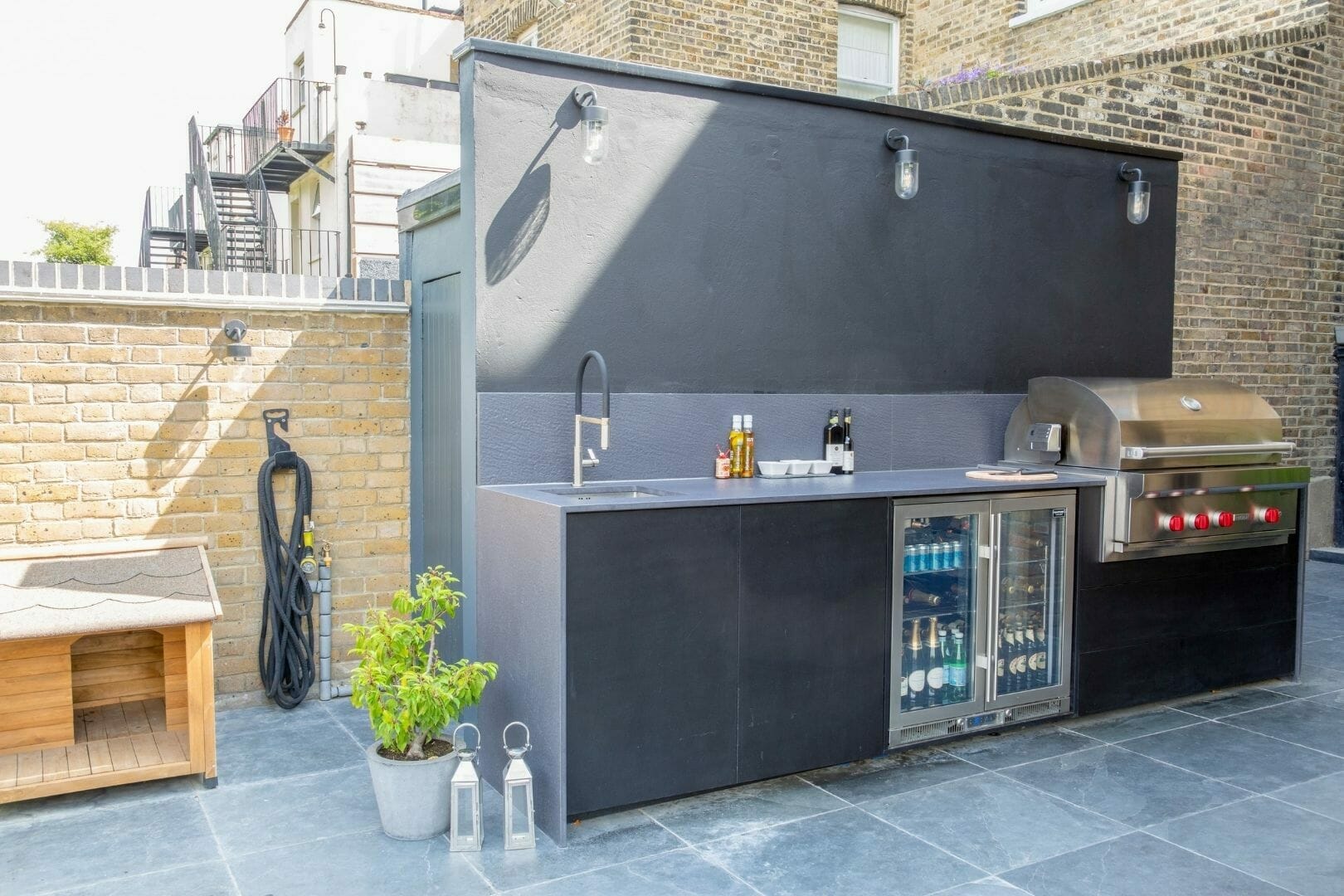 THE LEO OUTDOOR KITCHEN COLLECTION
Our impressive collection includes two outstanding ranges to suit your requirements and budget; the Leo 620 and Leo 680. All our innovative, intricately designed products feature a host of exceptional benefits, including luxurious push-to-open, soft close cabinets that maximise every inch of storage space and synergy catches that prevent the doors from blowing open in high winds. Each kitchen also features fully adjustable legs to accommodate uneven ground and ingenious insect-proof ventilation screens.
Our superb Leo Kitchens are manufactured right here in the UK using the finest quality Blum components, guaranteeing their unrivalled durability and longevity. However, to extend the life of your Leo Kitchen, we would recommend installing it alongside one of our stunning pergolas or covers. Our exquisite bespoke products can be tailored to your exact needs, offering the ultimate versatility. For more information or to discuss your project, please don't hesitate to get in touch by clicking the button below.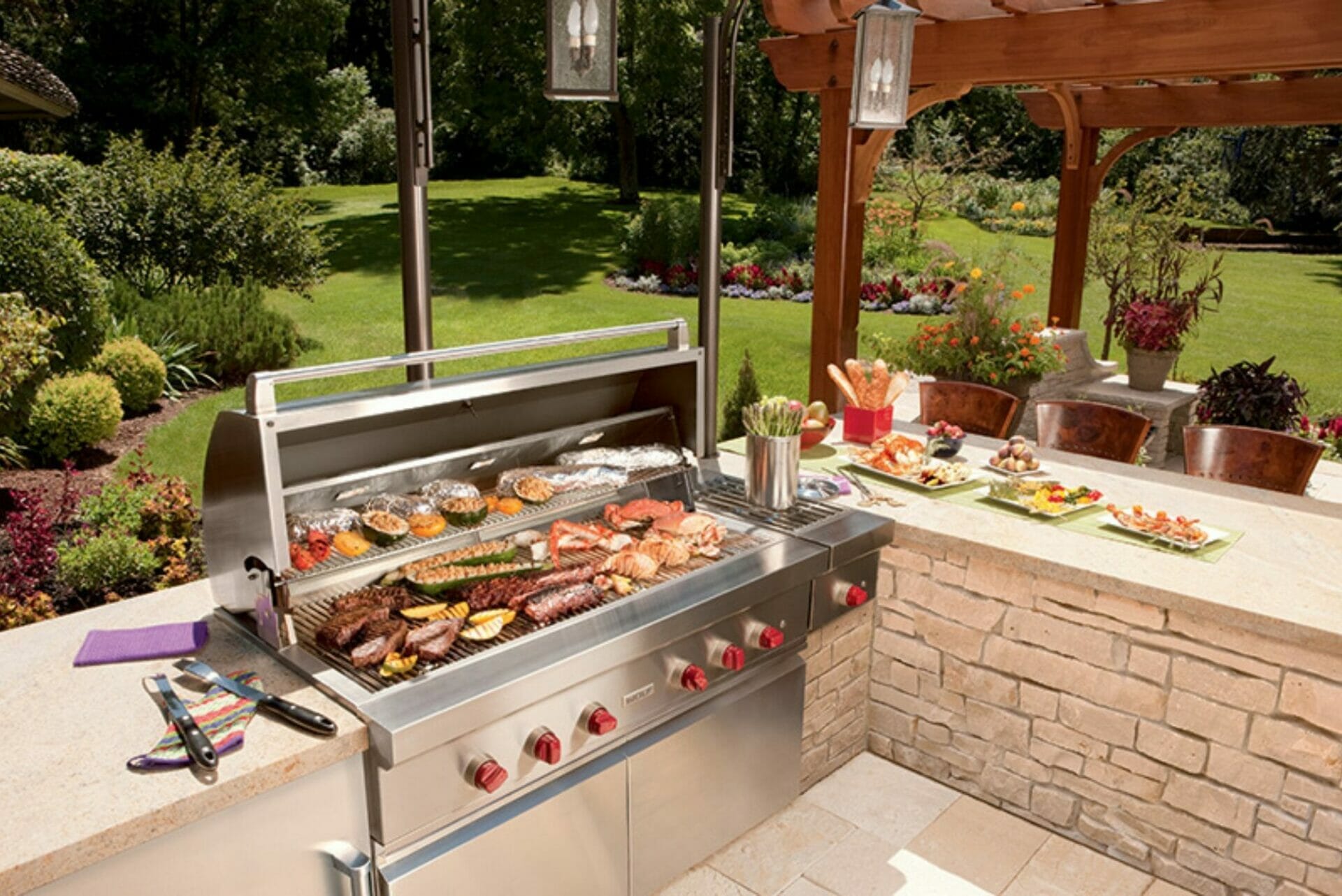 The Leo 680 collection is undeniably our most luxurious, state-of-the-art range. The 680mm deep cabinets are compatible with a huge range of grills and cooktops, allowing unlimited design flexibility. Stainless steel drawer boxes with high sides maximise useable storage space, while full-sided double base cabinets offer impressive strength and durability. Available with a variety of internal and external finishes and colours, the Leo 680 is the ideal choice for those looking for a truly bespoke solution to outdoor cooking.
At 620mm deep, the Leo 620 makes optimum use of materials, allowing us to offer the same exceptional functionality and quality for an affordable price. Available with Orion Grey internals, the push-to-open doors, ingenious catch system, and unique custom features represent the versatility and superb durability synonymous with the Leo brand. The Leo 620 range is not compatible with Wolf or Fire Magic grills.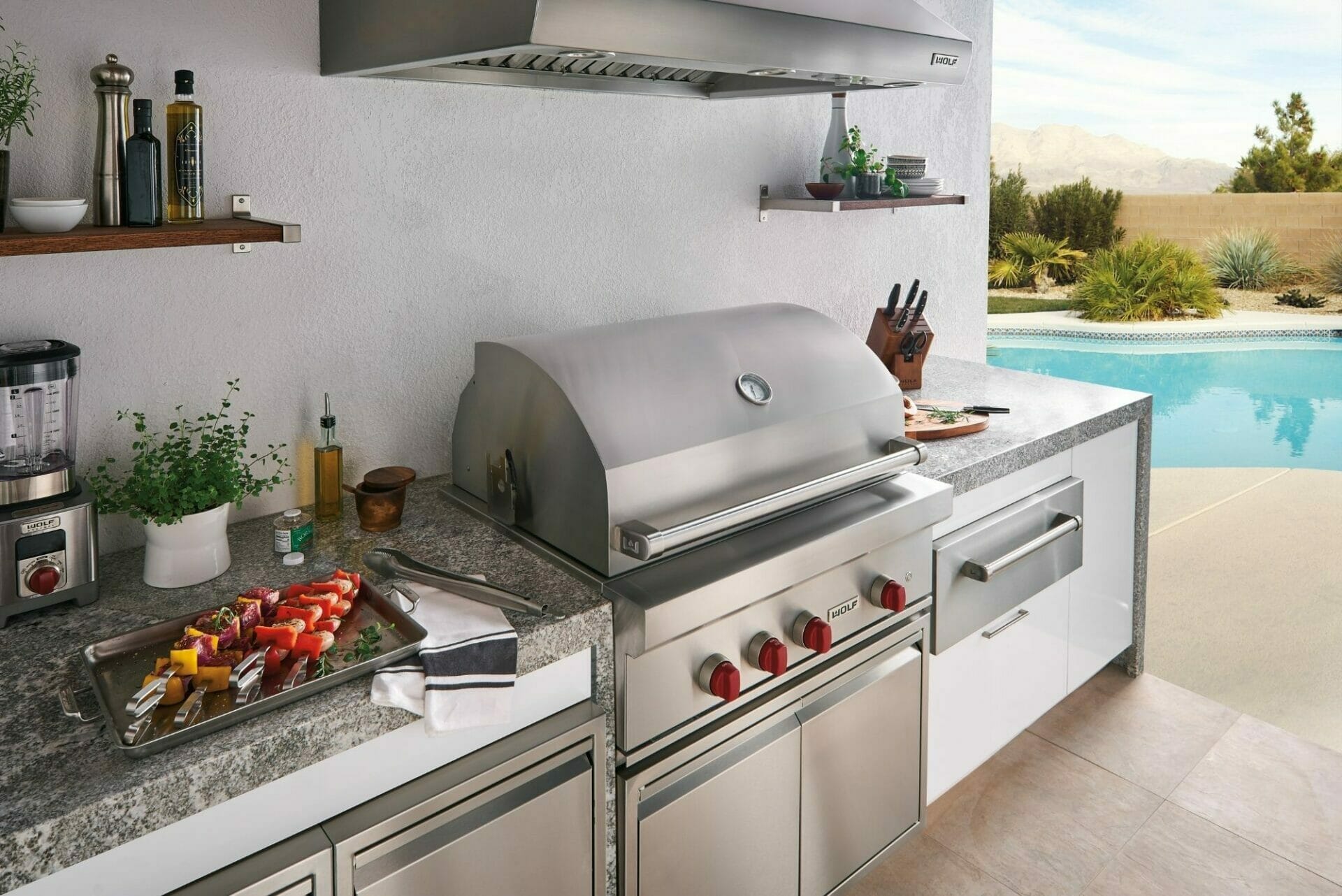 CHOOSE FROM A RANGE OF FANTASTIC APPLIANCES
At LEO Living, we are experts in a range of fantastic outdoor kitchen solutions. As well as our sleek collection of contemporary modular kitchens, we also design and install more traditional brick-built structures which can accommodate our stainless-steel storage drawers and access doors as well as our amazing grills, BBQs and appliances. The simple construction of our classic outdoor kitchens allows complete flexibility in terms of layout, scale and colour. Our stunning traditional built-in kitchens make a superb feature as part of your outdoor living space.
Complete with full power and water supply so you can choose from a range of refrigerators, sinks, hobs, grills and BBQs, our luxurious cutting-edge outdoor kitchens allow you to experience your home without compromise. Our kitchens offer all the exceptional cooking capabilities of an indoor kitchen and more while allowing you to spend time relaxing and socialising with friends and family outside. If you're passionate about cooking and you love spending time surrounded by nature whether hosting or relaxing, our fantastic bespoke outdoor kitchens are the perfect way to enhance your space and elevate your home.