Spending time in your garden is a fantastic way to relax, whether on your own or with family and friends. And to get even more enjoyment from your space, why not consider creating a tailormade outdoor living area? Bringing the comfort and luxury of the indoors outside, establishing a dedicated outdoor living space is a wonderful way to enhance your home. Boasting superb practicality and style, designing a luxurious garden living area is a cost-effective and convenient alternative to a home extension. However, to get the most from your project and to ensure your beautiful new space lasts for years to come, there are a few things you may want to consider.
First Things First
While creating a stunning living area in your garden is less complicated than a full-blown home extension, you will still need to plan your space carefully if your new design is going to stand the test of time. Before you get started on your project, it's worth outlining a few practical details that could affect your plans.
The Purpose Of Your Space
First and foremost, you will need to be clear on how you intend to use your new space. If you are looking to create a dining or seating area, you may want to position your design closer to your kitchen so that you can conveniently top up on drinks or food. However, if you are including an outdoor kitchen or drinks chiller in your living area, you can have greater freedom over where your new space is located. Likewise, you will need to take into account the amount of room required to accommodate multiple seating, dining, kitchen or pool areas.
Providing shelter from sunshine and showers, a roof or awning can bring an additional level of versatility to your design. At LEO Living, our fantastic garden buildings are the perfect way to take your outdoor living space to the next level. Their modular design allows you to extend your covered space to whatever size you need, while our bioclimatic roof system can adapt to all weather conditions. If you're looking to create an exercise studio, home office, or entertainment zone, you might want to consider including sliding glass doors for complete privacy and year-round weather protection.
An outdoor living space can offer outstanding flexibility. However, making the appropriate decisions from the start based on how you will use your space is key to ending up with a luxurious, practical and long-lasting design.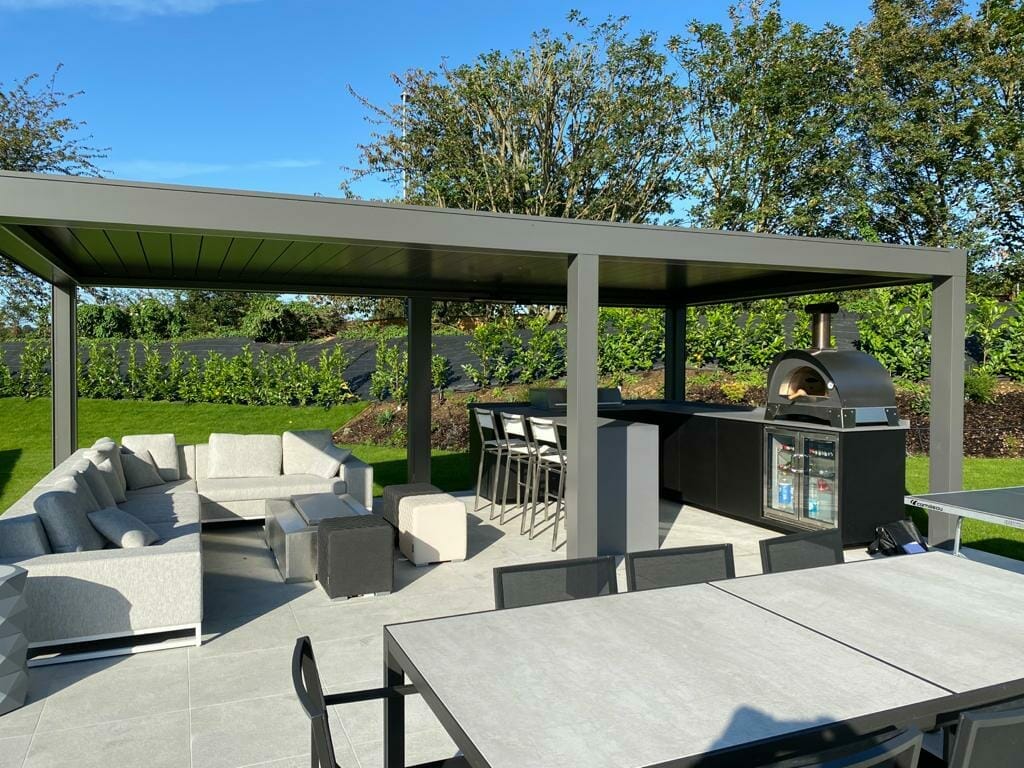 Natural Factors
As well as clarifying the vision you have for your space, it's worth dedicating some thought to the factors that are out of your control. Features such as the direction of sunlight entering your garden, how sheltered different areas of your space are, and the view from different parts of your garden all have a role to play in deciding upon the perfect location for your new outdoor living area.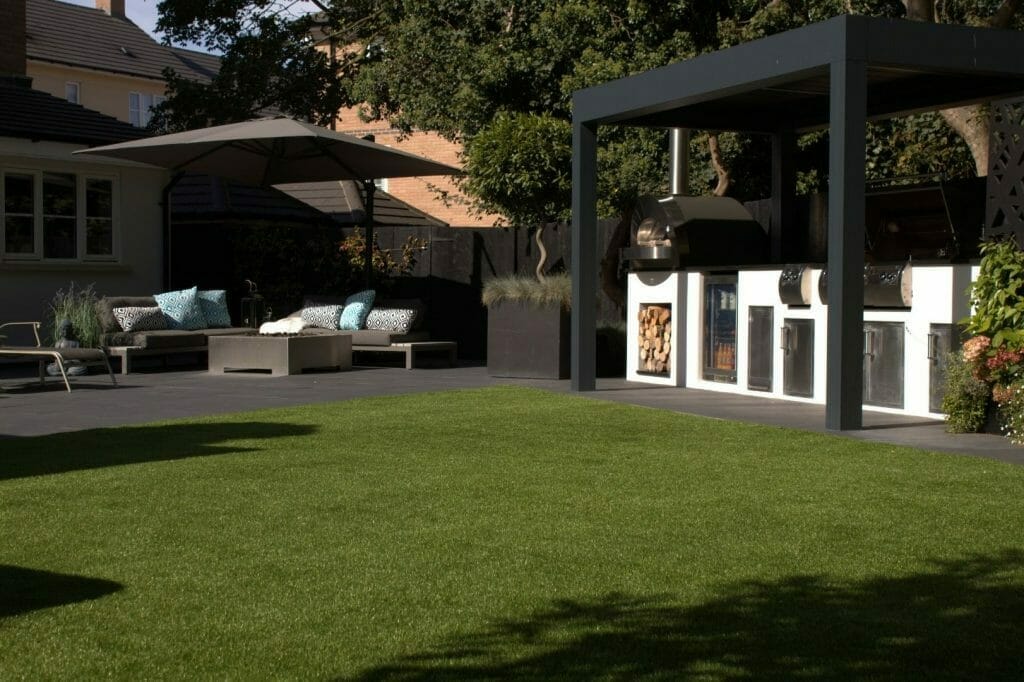 Planning Permission
We would always recommend double-checking with your local authority whether you need to get planning permission for your project. Generally, outbuildings come under permitted development and do not need planning permission. However, certain conditions must be adhered to. For example, your new structure mustn't be in front of your house. The eaves of a building may be no more than 2.5 meters high, and the pitch of the roof mustn't exceed 4 meters. The structure must be 2 meters away from your boundary, and additions cannot cover more than half the area of your original garden. In National Parks and Areas of Outstanding Natural Beauty, these rules can differ and are often more strict. Planning permission is always required if your home is a listed building.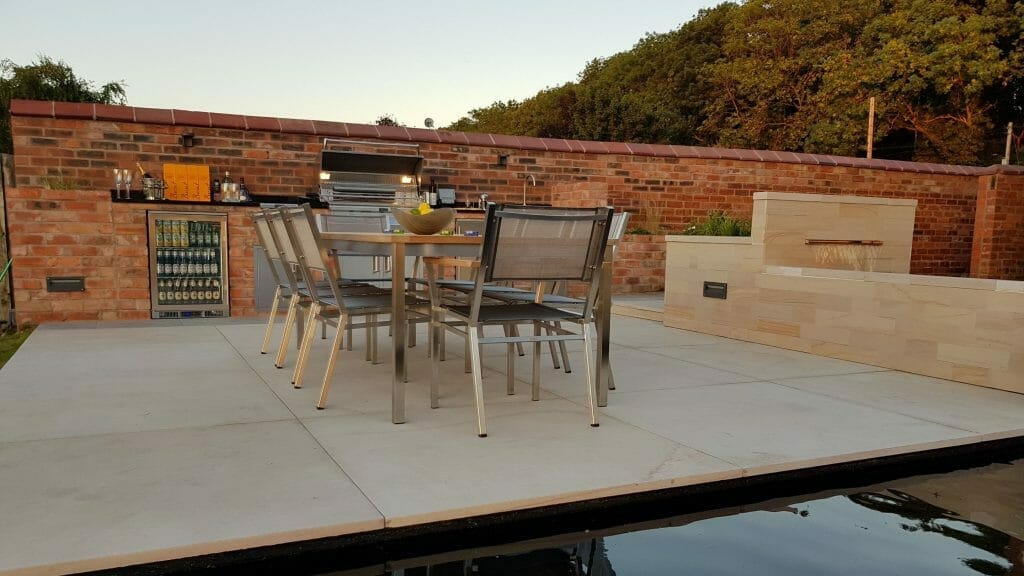 The Details
Once you've ironed out the initial planning required for your project, you can get down to designing the finer details of your space. Just like when renovating any other part of your home, attention to detail is essential to creating a luxurious, stylish and practical outdoor living area.
Plan A Great Layout
Having clarified and fine-tuned your brief, you should have a great starting point to begin planning a fantastic, functional, and attractive layout. Planning the layout for your outdoor living space ultimately involves similar considerations to those required when arranging the inside of your home.
You will need to take into account the different zones of your design and how they should interact. Of course, positioning your dining area close to your kitchen or outdoor cooking space is ideal, whereas you might want your cosy outdoor seating area to feel more private. Dispersing these zones throughout your garden rather than incorporating everything on a single terrace is a great way to introduce depth and movement to your space. As mentioned earlier, you will also want to think about the natural factors affecting your space. For example, consider positioning your dining area out of the heat of the afternoon sun or vice versa.
A level of hard landscaping will likely be required to create a suitable surface for seating, dining, or cooking areas. Connecting different zones with hard landscaping such as paths while combining soft landscaping such as grass or easy to maintain shrubs will create an inviting and flowing multidimensional garden living space. Likewise, using different levels to differentiate your space can help establish multiple zones as well as adding visual interest and structure.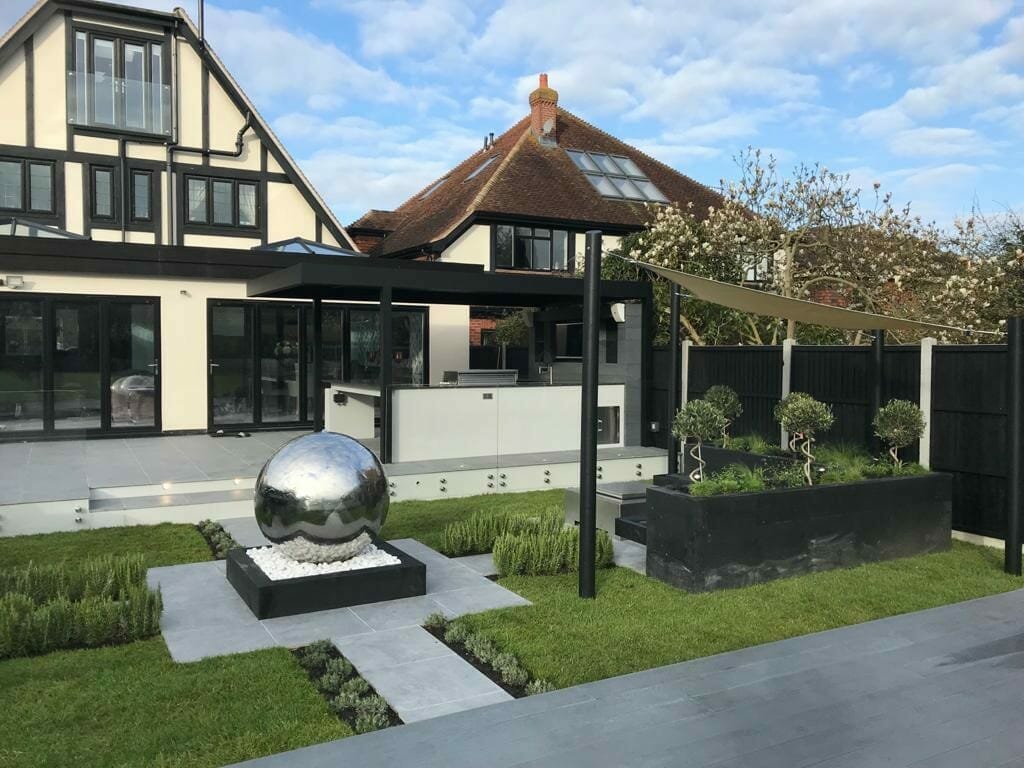 Appliances That Could Enhance Your Space
Whether you opt for an outdoor kitchen, a home spa or a simple covered seating area to relax and unwind in, there are a host of fantastic appliances that can enhance your space. If you'd prefer to position your outdoor area away from your property, then a stylish and convenient drinks fridge is worthwhile considering. Cooking outdoors is becoming an increasingly popular pastime in the UK, and so why not up your game with a state-of-the-art grill? Alternatively, if you prefer to order a pizza and take the weight off your feet, you could even create your own home outdoor cinema with a built-in TV screen and sound system. To get the most out of your space it's best to incorporate your desired appliances into your plan from the beginning. Find out more about our range of fantastic outdoor living appliances by clicking here.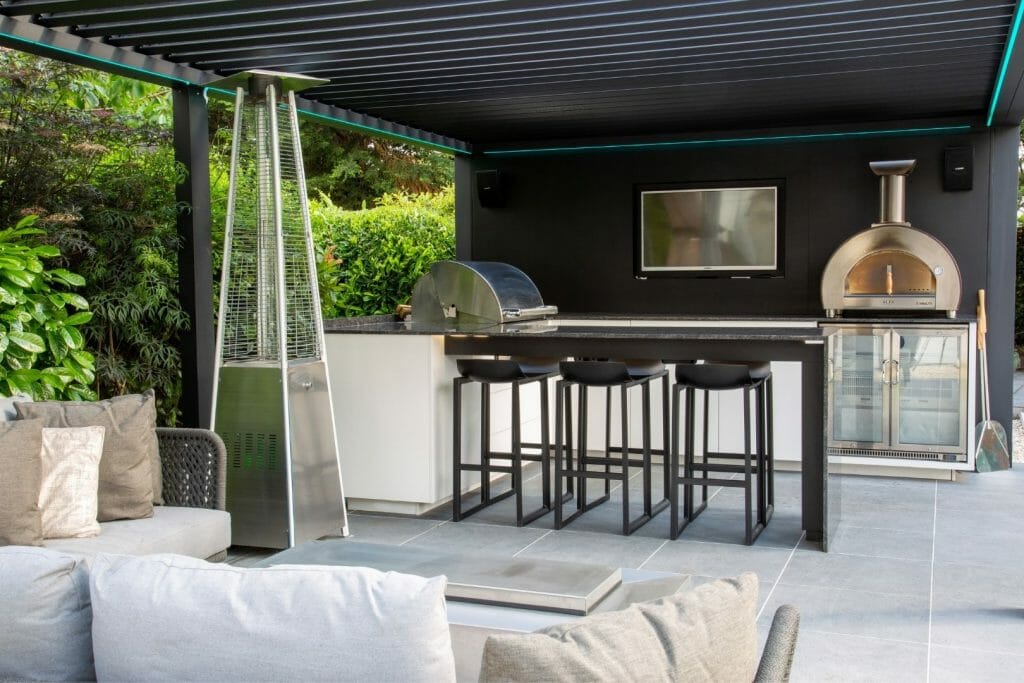 Lighting
When planning your outdoor living space, be sure not to overlook lighting. Whiling away a warm summer evening with friends in your garden is a wonderful treat. However, it won't be quite the sophisticated experience you'd imagined if you all end up sitting in the dark! You can either opt for lighting that's stylishly integrated into your garden building or introduce lighting to your surroundings. To enjoy your outdoor living space day and night, make sure you give careful thought to planning your lighting.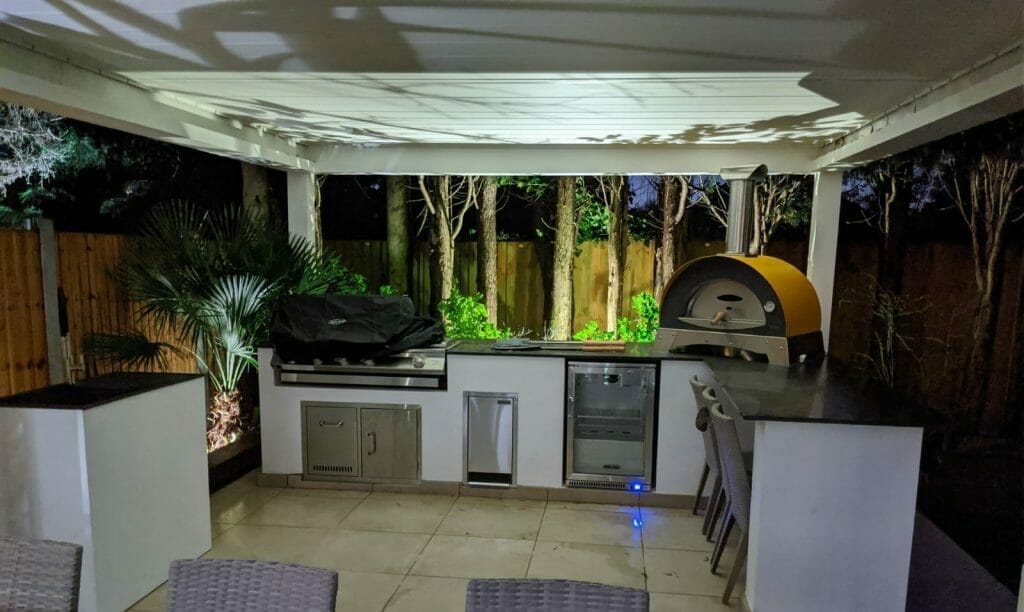 Whether celebrating a special occasion or relaxing after work, creating a luxurious outdoor living space can completely transform the way you experience your home. A bespoke outdoor living area offers impressive versatility and can be perfectly tailored to suit your needs. However, in order to get your design just right, it's important you dedicate thorough consideration to planning your space. If you'd like more advice on creating a stylish and practical outdoor living area, please click here to get in touch with your nearest experts or give our friendly team a ring on 020 3150 1503.